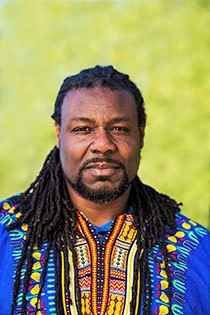 As both a painter and a curator, Vincent Keele organizes exhibitions such as Predators and Women, The Black Panther Art and Fashion Show, An Evening with Kathleen Cleaver and Abstracted View. His own work has evolved to expressionism, primarily in acrylic on canvas.

Keele was born in Los Angeles, California. His passion for art began very early. His mother, Mary M. Scott, an alumnus of the Art Institute of Chicago, passed on to him her complete course of books. With these materials, he learned to see and produce art in a wide variety of methods.

Keele benefitted from great mentors along the way. He is a self-taught artist with a traditional education from Platt College where he studied Graphic Arts and Drafting.
Before his love of painting in oil, the complexity of pen and ink held a special place in his heart.
Artist Mission Statement:

To spread smiles by interrupting stressful days and bad moods with continuous, uplifting, colorful imagery. I invite the viewer into the painting to learn how and why the artwork was created.