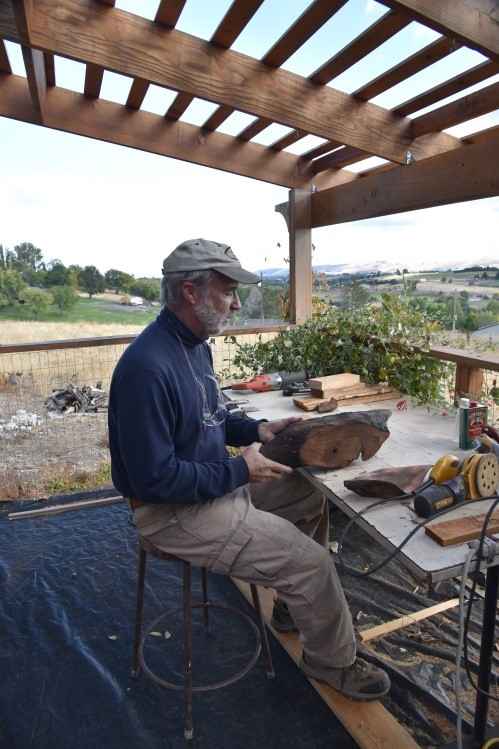 Randal Leek is an engineer by education. He received his M.S. Engineering degree from Washington State University. Eventually, his humanitarian assistance work took him abroad to Somalia, Tajikistan, Azerbaijan, Albania, India, Pakistan, Sudan and, finally, Afghanistan for three years with the Department of State. He has been the featured artist in Magazines and his sculptures have been exhibited in the U.S. Embassy in Kabul and in Pacific NW galleries including in Yakima, where he now lives. Growing up in the Puget Sound area, with family outings to the Cascades, and later, mountaineering and skiing, directly influenced his work and love of natural substances.

His sculptures capture the nature of the tree from which they came, including the natural grain and life-earned blemishes within. Some of the spectacular material used in his pieces (teak, balut, sycamore, sheesham, padouk, zebra wood, etc.) was found in the deserts and mountains (and local markets) of Sudan, Afghanistan, Gabon and Thailand, expressing their aged, dried and weathered essence.

The inspiration for his work comes from shapes and textured surfaces found in nature. These are refined in art by precise edges, and displayed in contrast with the untouched roughness of exposed, weathered forms often found on the shores of Puget Sound and in the forests of the Cascades.
Artist Statement:

I continue to be mystified by the beauty of the natural grain of wood. The three-dimensional forms of my work are often determined by what I find in each rough piece I begin with. For me, sculpture is this appreciation and celebration of nature as represented in my pieces. Collecting and shaping wood and other natural objects have always been a fascination and only within the last ten years have I really considered seriously that I could produce fine art through my love of nature. It is this celebration of polished wood grains, its texture and contrasts and character that is the joy of wood sculpture. It is an elicitation of wonder and a memorial of the tree that lived and died but continues as a kind of joy; even as an expression of love for nature.