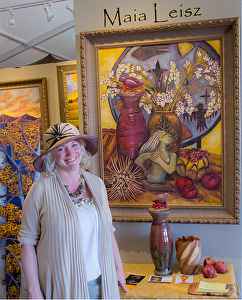 Maia Leisz considers herself fortunate to have a mother who believed she could do whatever she set her mind to. Growing up in a remote area of Northwestern Montana, without electricity or television, left much time for creativity. After coming to grips with reality at 8 years old, that she would never have hair long enough to become a mermaid, she decided to become an artist and has pursued that goal ever since.

Attending the University of California at Santa Cruz, majoring in art with a minor in French, led her to the South of France and a full scholarship to the Marchutz School of Painting and Drawing in Aix-en-Provence. Upon returning to the States at the age of 20, she began doing art shows and supporting herself as an artist. She has lived in such varied places as the San Francisco Bay Area, France, Northern Italy and England. Currently she lives in a home and studio with her husband and two small children on the Idaho panhandle.
Artist Statement:

Art is much like a language; the more you speak it, the better you become at expressing yourself through it. While true fluency requires an enormous amount of time and effort, once it is achieved you only have to worry about what you want to say, not how you will say it. Also, fluency in one language makes it much easier to learn a second or third, which relates well to working in diverse mediums.

Happily, I found my own voice at an early age. An art teacher in high school once criticized me because everything I created looked like it was done by me. I have always felt that this was the whole point, and took it as a compliment. I have been told that my art has, at the same time, both a strong energy and a very peaceful effect on the viewer. This seeming contradiction is what draws many to it and makes it stand out.It is my objective to create art that has a timeless quality and will outlast any current fad or gimmick. If a piece of art can stand on its own merit, it will look as great in an ultra modern apartment as it does in a home full of antiques and Persian carpets. Much as truly good wine pairs with almost anything, good artwork is comfortable in any environment.