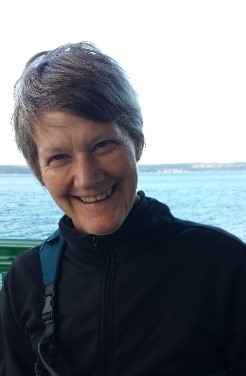 Laura Karcher discovered her pasion for woodworking after apprenticing at Hana Shoji in Alameda California. It was in this small shoji screen making shop that she united her formal graphic design training and her desire for dynamic physical work. After graduating from the University of Oklahoma Laura worked in the University's large zoology department as illustrator, photographer and graphic designer. The lure of the west coast drew her to the San Francisco Bay Area where she honed her woodworking skills at Hana Shoji and then Goodnight Room, eventually establishing her own custom furniture business.
Laura moved to the beautiful Methow Valley in 2004. Her introduction to unlimited wilderness and new resources in the form of heaps of rusting farm equipment, barnwood and forests pushed her work in a new direction. The same quality craftsmanship but with more inclusion of organic shapes, natural elements and rustic surfaces. Laura fused the Wabi Sabi aesthetic with the elegant simplicity of traditional Japanese and Craftsman styles.
Karcher was accepted as a member of the Winthrop Gallery artist's co-op when she arrived in the Methow. She has had numerous featured artist shows there and Confluence Art Center in Twisp WA and the Rockport Center for the Arts in Texas. Most recently she was juried in as a member of the Bainbridge Arts and Crafts Gallery.
Artist Statement:
There is always one captivating object that initiates a new piece for me. It could be the beautiful colors in a piece of walnut, the iridescent sparkle of Mahogany, an interesting texture or a beautifully shaped branch from the forest floor. Once launched I'm looking for balance and harmony; of light and color, texture and proportions. Living so close to wilderness has brought the balance of nature into sharp focus for me. The reality of renewal and decay infuses my work; trees forever living and dying and changing… and there is beauty in it all.