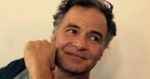 Giuseppe Palumbo's figurative bronze sculptures are textural, warm, spirited works that expand upon the essence of each being he portrays. Palumbo studied in Italy, Mexico, Loveland CA, Scottsdale AZ, S. Carolina and the Art Students League in Denver, CO. He maintains studios in Sausalito, CA and Eldorado Springs, CO, where he is the founder of Eldorado Springs Art Center, which includes fine art, architecture, sculpture and furniture design. His work has been exhibited in many important shows throughout the US and can be found in several prominent collections.
"Giving breath to a fistful of clay or pulse to a crucible of molten metal defines art for me. I strive to add the intangible that words inadequately describe, soul.
Sculpting is the natural progression of decades of designing and building architectural projects. The components that make each successful remain constant: concept, proportion, aesthetic, execution. To arrive at these, the natural world is a source of inspiration and knowledge of proportion.
Artist's Statement:
"With a foundation in classical objective training my interest is not to replicate an object or being but to create a spirit or archetype felt as well as seen. I am curious by the unheard voice beyond the academic, believing that true knowledge is a subjective process from within.
For inspiration, technique, knowledge and wisdom I have sought and continue to seek the best artists, teachers and schools.