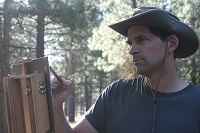 A plein aire landscape painter living in Portland, Oregon, Scott Gellatly's paintings capture his personal response to the diverse landscape of the Pacific Northwest. Working directly from nature, his work captures the area's unique light and atmosphere and, as he puts it, allow him "to participate in the time honored act of painting outdoors".
Scott's artwork has been exhibited in numerous solo and group exhibitions throughout the Pacific Northwest, and across the United States. Though much of his time is taken with being Product Manager at Gamblin Artists Colors in Portland, Scott tries to paint as much as possible. In addition, he has lectured on artists' colors throughout the United States, Canada and Australia.
Artist Statement:
I've always been driven to make things. No matter the medium, I find excitement and wonder in creating something that didn't exist the day before. Whether that creation succeeds or fails, it drives my creative process forward – eager to begin the next piece.
Landscape painting is the perfect vehicle for my creative pursuits. It marries my love of nature with an immediate, responsive approach to painting. It can, at times, be a welcome solitary act – and at other times, an opportunity for camaraderie with fellow painters.
I'm a proud Oregon native and currently live in Portland with my wife and two young sons.