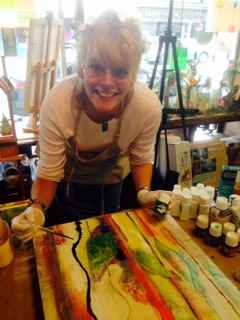 Tracy Felix was trained in a traditional manner growing up - through private art lessons using oil, and all the high school and pre-college classes she could find. She has had what she calls an "Art Life," because that is the constant that weaves through everything about her.
Tracy earned a degree in graphic design & advertising in 1982, having attended the American Academy of Art, Chicago, and studied under Irving Shapiro. She then worked in Chicago advertising agencies, notably Frankel & Co., then design firms in Los Angeles with Don Weller of the Weller Institute for the Cure of Design, and Moshe Elimelech, eventually starting her own design firm in Chicago area "New Design".
After moving to the Pacific Northwest, Tracy opened Fraker/Scott Gallery, in Seattle's Pioneer Square, and now co-owns an art store called ARTspot here in Edmonds. In 2015, she co-founded the educational non-profit Art Start Northwest which will be housed in the new Graphite building, also in Edmonds WA.
As a painter, I work mainly with Acrylics, due to the ability of this medium to combine both oil and watercolor techniques. I have also added Encaustics, and for large scale work go to my first love, Oil. The past two years find me adding Resin as well. Experimentation keeps me interested and my work moving forward.
Even non-representational art should have a sense of purpose. Paintings need to be about something. I feel strongly that creating a feeling of depth is important – both visual and of meaning. My paintings are built in layers of color, texture, images and mixed media when it supports my concept. My paintings can be viewed literally or symbolic of larger ideas.
I am an experimental painter. I love to find new and unusual ways to make my paintings unique. For me, cutting edge is creating new ways to assemble the visual.