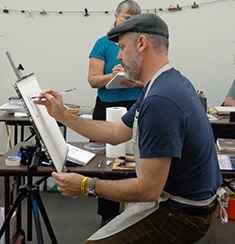 Born 1966 in Chico California, Ron Stocke moved to the Pacific Northwest in 1979. His interest in drawing and painting started early. Ron received his formal training at JM Perry Technical Art Institute, where he holds a degree in Graphic Arts and Illustration. Chuck Nazz became Ron's watercolor mentor in the mid 1980's, and after painting with Mr. Nazz for nearly four years, he then studied under Zoltan Szabo and Alvaro Castagnet. Ron now lives in Everett WA.
Ron is well known for his Northwest seascapes and landscapes, as well as his dramatic architectural cityscapes. His representational style is both exciting and unique; simplifying shapes and exaggerating values, his combinations of lost and found edges separate his work from his peers. Ron has stated, "No other medium can capture the feeling of a wet surface or the feeling of light better than watercolor. This is evident in most of my work and I try to exploit it as much as possible."
Ron Stocke's artwork has been collected by corporations and individuals throughout North America and the United Kingdom, and has been awarded top honors in international competitions. His images have been featured in Watercolor Magazine and Splash, and have been used on products that range from wine labels, pad covers and art materials. Ron teaches comprehensive workshops on his sought after style in the United States, Canada and Italy, and conducts demos and lectures on art materials and green studios. Ron is an elected member of the Canadian Society of painters in Watercolour and a signature member of the Northwest Watercolor Society. He is also a member of the National Watercolor Society as well as the Puget Sound Group of NW Painters.