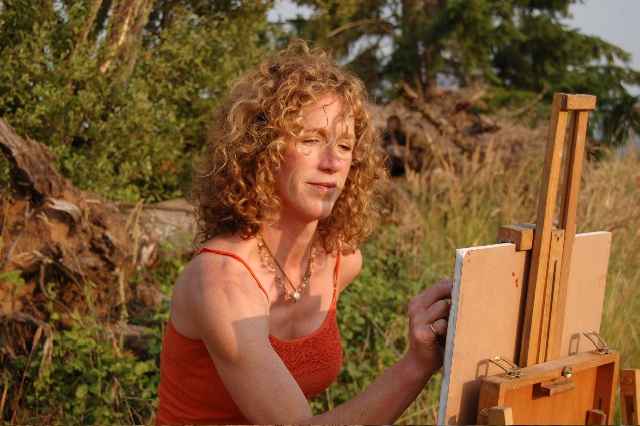 Growing up on three continents, Amanda has been inspired by much of the world. She now lives on 30 breath-taking acres in Cornelius, Oregon capturing the beauty of the landscapes that surround her.
As a child living in Africa and Saudi Arabia, she remembers watching her mother paint oil landscapes as a hobby. Both her parents were educators and encouraged her to follow her creative passion. Amanda was educated in New England and holds a B.S. in Apparel Design & Merchandising (honors) from University of Vermont and a graduate degree in Textile Design (Summa Cum Laude) from the Fashion Institute of Technology in New York City. She was L.L. Bean's first apparel designer in the 80's, Nike's first Apparel Innovation Director in the 90's and then helped launch Nike's e-commerce business (www.Niketown.com) during the dot-com boom.
Artist Statement:
I'm always drawn to the moment when the light is most dramatic, often at the edges of our days, and how the relationships of color, composition and texture within each scene speaks a calmer, simpler place in my life. Viewing and painting these meditative landscapes allows me to find a more balanced center and revel in the beauty that exists around us. Sharing these emotional connections visually, by painting beautiful paintings is what my art is about.
But for me, painting is just as much about the journey as it is about the finished piece. Each painting brings its own set of frustrations and challenges, which pushes me to grow and learn while giving me the pleasure of purely creating. My voice is constantly evolving. The more I paint the more I realize how much there still is to learn about the relation to color, texture, and technique. After formal design and illustration training, I am constantly trying to loosen my style to become more painterly and impressionistic.