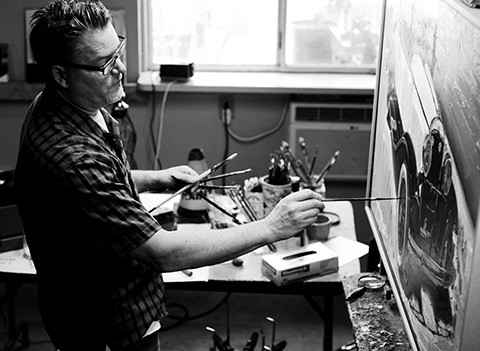 Bradford Salamon has been known for his figuratives, his portraits, even films, but has recently made a radical departure to painting objects. While on the surface, it may seem to just be outdated detritus of former times, to Bradford these objects tell a story. A story of intentional and beautiful design. He sees these objects as subjects, and paints them as if they are portraits, lining them up to face the viewer boldly. Most of these objects came from the time period after the Second World War, when the U.S. was the dominant power and cultural leader. "We had this explosion of design," says Salamon, "and we were defining who we were…And these objects, through their design and construction, told stories."
His paintings are not just a nostalgic journey into a forgotten past, rather Salamon wants to bring these into our view to make them important again. He wants to remind us what a phone really looked like, to enjoy the fins on an automobile even though they had no particular function -other than to showcase American invention and character. We are invited to enjoy the look of a finely designed piece when form was not necessarily sacrificed to function.
For him, these objects connect the past with the present, and expand his way of perceiving the world around him. For Salamon, this is the meaning of his art process.