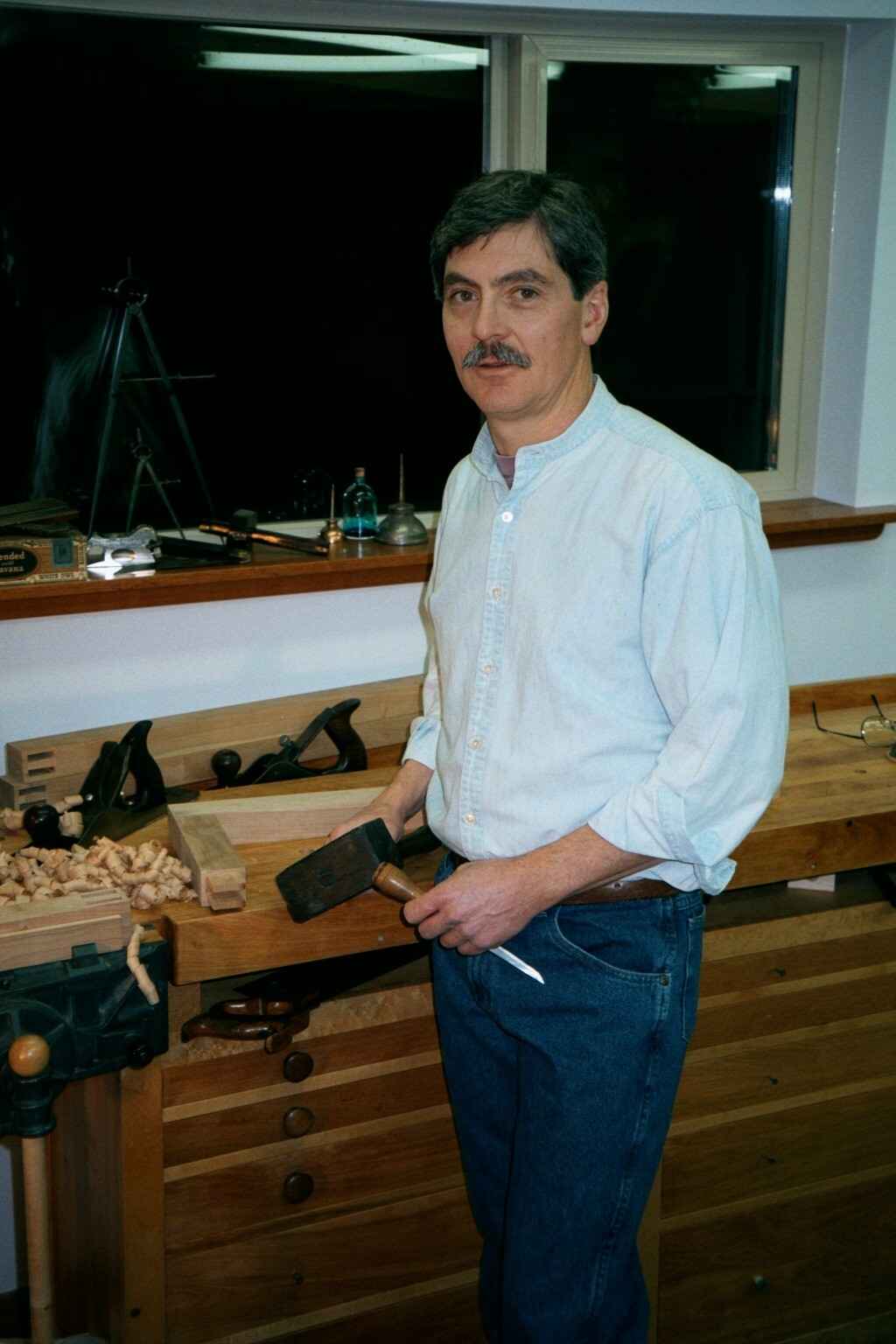 Gary Leake is a woodworker whose passion is to search the countryside for a special one-of-a-kind piece of timber, be it cherry (a favorite), maple, walnut or cocobolo, that has character (meaning highly figured, tigered, spalted, etc) and turn it into a finely engineered and ultimately beautiful piece of furniture, so unique it is considered a work of art.
With a technique that tends to be influenced by methods and styles of earlier times, Gary uses antique woodworking tools and skills - although he does use a band saw from time to time. Other influences for Gary are ancient Japanese joinery, Shaker-style furniture, Colonial-style furniture, Early American hand tool techniques and a natural finish look.
Living on Whidbey Island, Gary spends hours dreaming up ideas, ranging far and wide to find that perfect piece of timber, and finally creating a true work of art. He credits his grandfather for nurturing what has become a keen appreciation for all things wooden; many of Gary's antique woodworking tools and skills were inherited from this wonderfully patient master cabinet-maker.
Gary's creative process can best be described as follows: Conceptual ideas float around in his head (sometimes for a day but often for years) until the magic moment when he finds that particular piece of timber that triggers the project. The wood's natural character, which acts as a catalyst for moving the abstract idea to reality, truly drives the final design. Thus each artistic creation is truly unique. Each piece is carefully crafted by hand using many of the woodworking techniques and tools employed during the seventeenth through nineteenth centuries. The resultant 'feel' and warmth of the wood can only be experienced by touching and caressing it. The touching of Gary's art is indeed mandatory. Gary's labors of love demonstrate his woodworking skills and his creativity as a contemporary artist.